The following are for organizers to distribute as they see fit. Perfect for the streets or social media!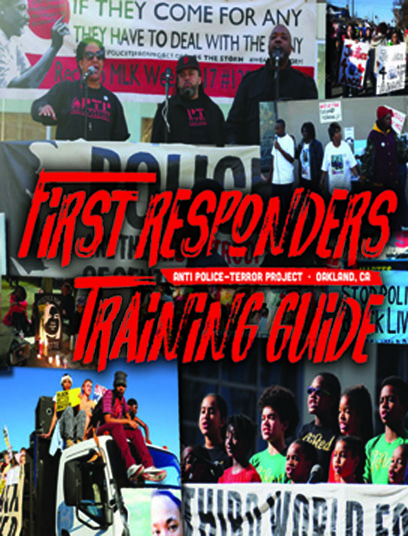 APTP First Responders Training Guide
Developed by APTP's First Responders Committee, this Guide describes our model for supporting families impacted by various forms of police terror and documenting abuses by police throughout the Bay Area. After an incident of state terror, we connect impacted families and community members with resources and legal referrals. We organize to respond to police murders and incidents of excessive force because we believe in the need to defend ourselves and our communities from violence.
This Guide was designed for APTP Trainings. We encourage you to personalize this Guide in your efforts to eradicate and heal from state sanctioned violence in your communities. We do ask that you credit APTP for the model itself. APTP is available to come to your community and offer in-person training.
AB 931, the Police Accountability and Community Protection Act, will reduce the number of police killings by allowing the use of deadly force ONLY when there is an imminent threat to an officer or someone else, and there are no other viable alternatives.
AB 931 will:
Establish that law enforcement cannot use deadly force unless there are no other reasonable alternatives.

Establish that use of force by law enforcement is not justified if the officer's criminal negligence contributed to causing the imminent threat.

Raise the legal standard for use of force, establishing that law enforcement can only use deadly force if there is an imminent threat of death or serious bodily injury to the officer.